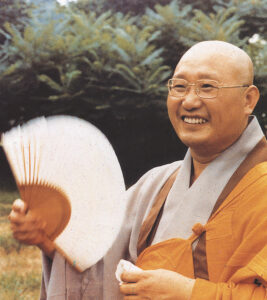 Zen Master Seung Sahn Haeng Won (1927~2004)

He was the first Korean Zen master to teach in the West and founder of the International Kwan Um School of Zen.
Zen Master Seung Sahn was born in Suncheon, South Pyongan Province in what is now North Korea in 1927. He grew up during the Japanese occupation and in his late teens experienced great mental conflict and disillusionment as a result of social upheaval, caused by the deteriorating situation between North and South Korea. Because of this situation, he encountered Buddhist teachings and attained great enlightenment within 100 days of a solo retreat chanting the Great Dharani.
After he become a Sunim at Magoksa, practicing under guidance of the Zen Master Ko Bong, the most famous Zen master of his time, he received Dharma Transmission from him on January 25, 1949, thus becoming the Seventy-Eighth Patriarch in this line of succession.  Zen Master Seung Sahn was twenty-two years old at that time.
After five years serve in the army, he served as chairman of the committee to reform the Jogye Order of Korean Buddhism.
In 1964, he took the first steps in overseas teaching by establishing a temple in Japan with the support of the Japanese government. This was due to the good relationship he made with the Japanese government in connection with the return of remains of Japanese ashes found in Korea from the Second World War. He spent nine years teaching in Japan, also founding another Temple in Hong Kong in 1969.
In 1972, at the age of 46, Zen Master Seung Sahn travelled to America. Arriving during a time of social change and the clashing of cultures within the country, he saw that young American hippies had a sincere and pure passion for practice, also the many other Buddhist traditions had already spread in America, thus he established a great vow to propagate Zen Buddhism.
He supported himself for a few months by repairing washing machines in a laundromat in Providence, Rhode Island. It wasn't long before he met some Brown University students, who would come by his small apartment to ask him questions about life and Zen practice. From these beginnings the Providence Zen Center was formed, and starting with Warsaw Zen Center in Poland in 1978, more Zen centers opened in several European countries such as Germany, France, the UK, Mexico and South American countries including Brazil. Later spreading to Southeast Asian countries such as Singapore and Malaysia, as well as Australia and South Africa.
He lived a life manifesting that 'the whole world is single flower'.
His core teaching of "Who am I?", "Only don't know" has spread to practitioners from around the world.
Although these teaching words have been passed down from long ago, by realizing and experiencing it himself, he was able to use it in accordance with the different cultures, language and consciousness of modern people, allowing them to open their eyes to their true nature.
Ten years before his death, he promoted the establishment of a new temple in Korea, the root of the Kwan Um School of Zen(The international Kwan Um School of Zen was thereby established with over 100 Zen centers, temples and groups now worldwide, continuing to practice with his teachings), where disciples and practitioners from all over the world could practice and live together in Korea.
In 2000, he founded Musangsa as an International Zen Center in South Korea, making it the head temple of the Kwan Um School of Zen in Asia. Zen Master Seung Sahn entered Nirvana on November 30, 2004, at Hwa Gye Sa temple in Seoul. He died peacefully surrounded by his students. He is the 78th Patriarch in his lineage of Zen masters in Korea.